Now that the holidays are over, I was finally able to get back to work on Loretta. I'm in a unique position that makes it hard to get things done, but now that the new year is upon us, I am more determined than ever to keep on plugging away.
I work 250 miles away from my house, and travel home each weekend. Loretta is with me at my work location, and the guy that I rent my weekday room from has allowed me to have a part of the garage (although a small part) to keep and work on her. It has good a bad points. The good is that one of his best friends is an out of work ASE mechanic that stores his entire automotive tool set at the house, so I have just about every tool known at my disposal. The bad is that with his GTM Supercar kit car in progress, all his parts, all of my parts, his yard equipment, and Loretta, there's barely room to move in the garage, let alone put parts as they're taken off. I'm constantly having to move things just to have access, so I'm literally doing everything I can think of on one side, then the other.
I wanted to get the engine and trans pulled last night, but I had no idea of how long it takes a gas tank (yes, nearly full) to gravity drain via the small line by the motor. It drained for 3 hours at it's mighty trickle, and I got about 4.5 gallons out. That will be the first thing I start tonight. Still have a few gallons left.
I did get all the electrical removed, the hood off, the front bumper (her lips), numerous body mounting bolts (although a few will be left for the tow up to WV), the plates holding the pans to the plywood that was installed (yes, plywood bolted with about 30 bolts to each side of the pans), horns, speedo cable, etc... removed. Once the gas has finished draining tonight, I figure I've got just a couple of hours left. All I really need to do is remove the motor, trans, axles and gas tank, and she'll be ready to roll.
There is a actually a little more done that the photos show, as I continued to work and didn't take final pictures when I was done.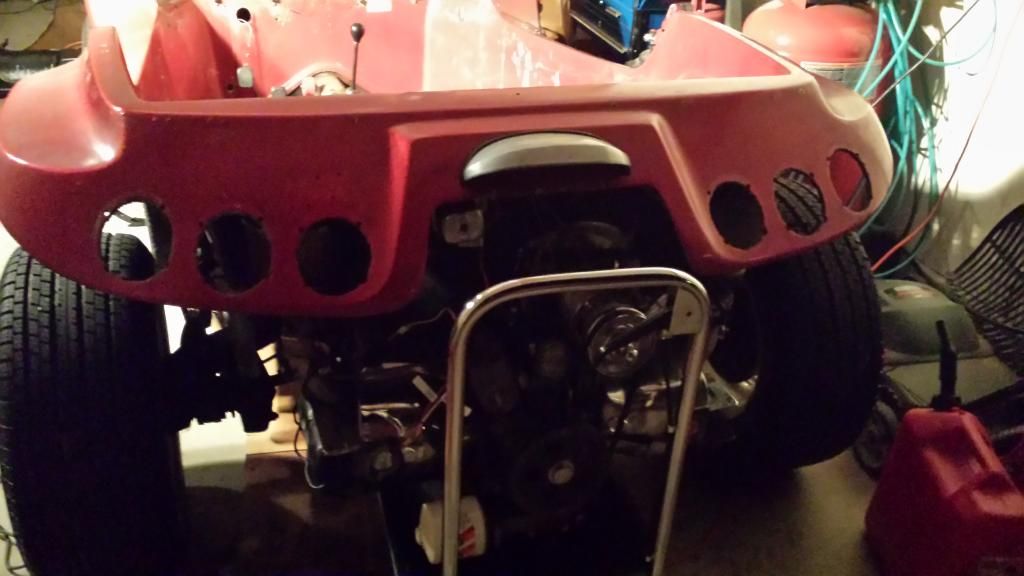 _________________
(Loretta) Manx # M2940D910E on customized 1970 chassis that has been "Wheelerized" by Joescoolcustoms
(Scarlett) Manx Resorter #12 (R0012B931S) on 1969 chassis.
(Gunny) Manx 2 # A0202A035E
(Bruiser) Tow'd # TF327D953N
(Unnamed) Manx 2 (Body Only) #1339
(Unnamed) Manx 2 (Body Only) (no serial number tag)
Club Member # 4436
Loretta:
http://www.manxclub.com/forum/viewtopic ... t=3365Manx
Scarlett:
viewtopic.php?f=82&t=3745&p=24983#p24983