September 14-16: Jubilee Ranch, Minden, NV

Official Manx Club event. Virginia City - Lake Tahoe - Genoa.

» Download Flyer!
» Download Information Form!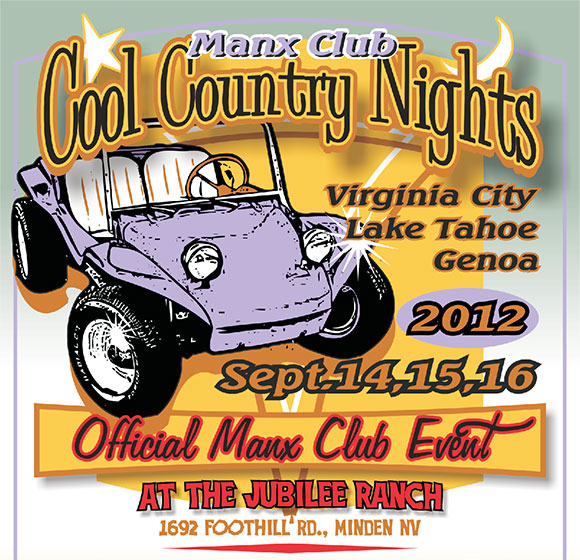 ACCOMMODATION CHOICES:

Carson Valley Inn Motor Lodge and RV Park
You can reserve a room or an RV space by calling 775-783-6629 or 800-321-6983 ext.1
and mention our group number 503172.
(Trailer parking will be available in the lot behind the RV resort)

Jubilee Ranch
There will be NO showers, water, garbage services, RV dumping or shade. Only porta potties. Space is limited and ground is not that level so please check with me to see if your rig will fit safely.


DIRECTIONS:

How to get to Minden, NV
From southern California-Highway 395 north to Minden/Gardnerville, NV. Carson Valley Inn will be on your right as you go thru town.
From Northern California- Highway 395 South to Minden/Gardnerville, NV.CVI will be on your left.

How to get to the Jubilee Ranch
Jubilee Ranch, 1692 Foothill Rd., Minden, NV.
HY395 north to Mueller Lane (Hwy757). Turn left. Follow Mueller Lane to Foothill Road
(Hwy206). Turn left. Follow Foothill Road for about 1 mile. Look for the Manx Club signs on your left.


SCHEDULE:

This event schedule is different from your past Manx Club Events.
Please be aware of these changes!

Friday: Check-In & Check-Out Genoa
Friday will be for checking at the Jubilee Ranch. Buggy group sign ups.

Saturday: Buggying
Be at the ranch by 8 am with buggies ready for a long day of buggying. Be sure to review the buggy check off list. It has been known to snow here in September. Be prepared for anything!

Saturday night: BBQ and Barn dance will be held at the Kornoff Ranch, 1429 Nichole Way, and just a few miles south of the Jubilee Ranch on Foothill Road. Bring your own drinks, chairs and cowboy hats and be ready to dance until the cows come home. Manx Club will be providing burgers, dogs and sides for dinner.

Sunday morning: Dirty Buggy Show-Off
Sunday Morning will be the buggy show at the Jubilee Ranch. Not shinning necessaey! Starting at 9 am. Until 11.30 am.


REGISTRATION:

To get a registration form, please conrtact the Club to renew your membership first!
Manx Club
10045 Hornblend Street
Reno, NV 89506

QUESTIONS:

Bob Hunter: (775) 771-6428 or Rhunter8037@sbcglobal.net